Luke 19:29-44 (NIV): As he approached Bethphage and Bethany at the hill called the Mount of Olives, he sent two of his disciples, saying to them, "Go to the village ahead of you, and as you enter it, you will find a colt tied there, which no one has ever ridden. Untie it and bring it here. If anyone asks you, 'Why are you untying it?' say, 'The Lord needs it.'" Those who were sent ahead went and found it just as he had told them. As they were untying the colt, its owners asked them, "Why are you untying the colt?" They replied, "The Lord needs it." They brought it to Jesus, threw their cloaks on the colt and put Jesus on it. As he went along, people spread their cloaks on the road. When he came near the place where the road goes down the Mount of Olives, the whole crowd of disciples began joyfully to praise God in loud voices for all the miracles they had seen: "Blessed is the king who comes in the name of the Lord!" "Peace in heaven and glory in the highest! Some of the Pharisees in the crowd said to Jesus, "Teacher, rebuke your disciples!" "I tell you," he replied, "if they keep quiet, the stones will cry out."
That's what it looked like when Jesus entered Jerusalem more than 2000-years ago, right about this time actually. To folks laying their cloaks on the ground before Him, waving palm branches, and shouting their praises to Him. The people of Jerusalem were welcoming and celebrating their King, their Messiah, our Messiah. But, that's not the whole picture....there is something bigger going on here. With the exception of Jesus....what none of them knew, including Jesus' disciples, is that this is the first day, of the last week, of Jesus' life. These same cheering crowds would be screaming for His execution in a week. The same disciples leading the way into Jerusalem, would be turning their backs on him and claiming they never knew Him. How did this happen? How could they go from loving Him to hating Him in less than a week? How could they lift Him up as their Messiah, to treating Him as a criminal?
To really understand what was going on....what what going through the minds and hearts of the Jewish people, we have to understand a few things about the Jewish people....a little about their traditions and beliefs.
Now, this was not the first time, nor is it the last, that palm leaves were waved in the air in Jerusalem. Palm branches have lot of significance throughout history and ancient culture. In the Jewish tradition specifically, they are used in the Feast of Tabernacles, also called the Festival of Booths, which took place in the fall of every year. It is one of the three pilgrimage festivals commanded by God in the book of Leviticus...this one to celebrate and remember their time wandering in the desert before they got to the promised land. It lasts seven days and begins with them building very primitive huts called Sukkah's, similar to what they would have stayed in during their journey. Aside from sharing meals and sometimes sleeping in the huts for the duration of the festival, there are various other rituals they perform during the seven days, including repeating 113th through 118th psalms. The final day of the festival is called "The Great Hosanna" and they recite the 118th Psalm which reads in part.....
The Lord has done it this very day; let us rejoice today and be glad. Lord, save us! Lord, grant us success! Blessed is he who comes in the name of the Lord. From the house of the Lord we bless you. The Lord is God, and he has made his light shine on us. With boughs in hand, join in the festal procession up to the horns of the altar.
One of the verses we read was, "Lord save us" which translates into the word we are familiar with, Hosanna. In addition to reciting the 118th psalm, they are commanded to take willow, myrtle, and palm branches, bind them together into what is called a lulav. Then they wave them north, south, east, west, up, and down symbolizing God is everywhere and that He is their King. One final note about the lulav's, many of the jewish people hold onto to theirs after the festival and use them to ceremoniously sweep out their houses during Passover, which is when Jesus entered Jerusalem.
We also need to understand what the Jews believed about the Messiah. In the Jewish tradition, Messiah literally means anointed one. It refers to an ancient practice of anointing kings with oil when they took the throne. The Jews did not and do not believe that their Messiah would be an innocent, divine, being who will sacrifice himself to save humanity from the consequences of sin. They believed the Messiah would be a man...a great political leader descended from King David. He would be well versed in church law and the observant of its commandments. He will be charismatic and would inspire people to follow him. He will be a great military leader who will conquer all of their enemies and lift them to the super-power they were always intended to be. He would come to usher in the "World to Come" or the Messianic age. A time of peaceful coexistence of all people. Hatred, intolerance, and war will cease to exist.
What bakes the noodle is that there were several would-be messiahs that the Jews followed. Like I said earlier, this isn't the first time this scene played out in the streets of Jerusalem. About 165 years prior to the birth of Christ......an empire from what is now modern day Syria had invaded Jerusalem and took control of the city. Their King, to further assert their dominance, walked into the Jewish temple, and sacrificed a pig to Zeus. This was about the worst thing you could do to the Jewish people. This was the ultimate act of humiliation against the them and it infuriated them. So a father with three sons initiated and led the revolt against the Syrians; this family came to be known as the Maccabbee family. Judas was the oldest brother that lead the cleansing of the temple and initial driving out of the Syrian forces. (This incidentally is where the celebration of Hanukkah comes from). When he returned to Jerusalem to a people that had been unable to celebrate any of their festivals, including the Feast of Tabernacles during the occupation, gathered their palm branches and waved them yelling Hosanna...welcoming in their king that cleansed the temple. 24 years later his brother Simon displaced the Syrians out of their land completely and when he came back, they did the same for him. Now, after time passed, the Jewish people came to realize they were not THE Messiah.
A final aspect of the Jewish world-view that we can't miss is prophesy. Depending on which scholar you read, there are over 300 prophesies dealing with the Messiah. We have the benefit of time and distance to see how all of those prophesies were fulfilled in Jesus. But the Jews of Jesus time didn't have that capability. They had to go with what they could see, and make a final determination later. However, one in particular I want to read to you comes from Zechariah 9:9-10 which reads:

Rejoice greatly, Daughter Zion! Shout, Daughter Jerusalem! See, your king comes to you, righteous and victorious, lowly and riding on a donkey, on a colt, the foal of a donkey. I will take away the chariots from Ephraim and the warhorses from Jerusalem, and the battle bow will be broken. He will proclaim peace to the nations. His rule will extend from sea to sea and from the River to the ends of the earth.
Perhaps you are beginning to see how this is all coming together. They hear of this Jesus, who they heard through the grapevine is stirring up stuff in other towns. And here He comes....riding into Jerusalem on a donkey, just as Zachariah foretold. He is coming to liberate them!!! Just like Judas, just like Simon...but this might be The Messiah!!! Jesus is going to free us from our Roman oppressors and the promised Messianic Age will be at hand. They were expecting a conquering King....a King that would vanquish all their enemies and make the Jewish people be the great and sovereign nation it was promised to be!!!! But Jesus isn't that kind of King, is He? Instead of saving them from taxes, He says to render unto Caesars what is Caesars. Instead of leading an assault on the Romans to avenge all violence they had done to the Jewish people, He said to give them your other cheek to strike. Instead of observing the Jewish laws strictly, He holds them in tension and in some cases turning them on their head. This is definitely not what they were expecting from their Messiah, especially not THE Messiah....the one that would come to usher in the Messianic Age.
Now that we have all that context, we read a little further into Luke and an interesting thing happens.....

As he approached Jerusalem and saw the city, he wept over it and said, "If you, even you, had only known on this day what would bring you peace—but now it is hidden from your eyes. The days will come upon you when your enemies will build an embankment against you and encircle you and hem you in on every side. They will dash you to the ground, you and the children within your walls. They will not leave one stone on another, because you did not recognize the time of God's coming to you."
Jesus only cries twice in the Gospels. Once for his friend Lazarus, and here in Luke as he looks over the city of Jerusalem and it's people. There is actually a chapel that sits on this particular site that scholars believe where this took place. Here's a picture of the Dominus Flevit chapel (show chapel picture) which translates into "the Lord weeps". Inside the chapel is a window that overlooks Jerusalem.

Why does Jesus weep? He know whats going to happen. He know that the same people that are cheering him, will turn against Him and the path of peace He preaches. He knows that other would-be messiahs would come that they would follow, and it would lead them into their ultimate destruction. In 40-years, the Jewish people will follow another Messiah who will lead them to rise up against their Roman occupiers. To squash the rebellion, Rome sent the 10th Legion to surround Jerusalem. For 3-1/2 years they fought and starved out the people of Jerusalem until finally they breached the walls taking 90k slaves and killing over 1.1 million Jews...that's men, women, and children. (Show burning Jerusalem pic). Then they proceeded to burn the city to the ground, tearing down the walls of every building, and even ripping up the foundations of them. This is why Jesus weeps.....he knows that instead of following His way....a way of peace....they will follow their own way...a way that leads to the sword...and it will destroy them. All because Jesus was did not fit in their box of who they thought their Messiah should be.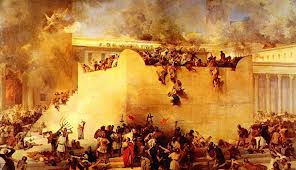 So the question I have for you is this.....who do you think Jesus is? If you stop and think about it, it's the most important question we will ever be asked. But I guess it's not the question that is the most important thing. It's our answer, isn't it? To me.....He was a fable, a story made up to make people feel better about themselves and their lives. If you didn't guess already, I haven't always been a follower of Christ. In fact, most of my life was spent as an atheist and a particularly nasty one too. Nothing would give me more pleasure than getting into a verbal confrontation with a Christian. It wasn't very hard to win, actually. I mean, us Christians believe some pretty outrageous stuff if you stop and think about it. Here's this guy, Jesus...who happens to be fully God in addition to being fully human. He was born from a virgin, fed thousands of people with next to nothing, gives sight to a blind person by spitting in mud and wiping it on their face....and I could go on and on. And don't leave out this whole heaven and hell business. Who did He think He was telling me I had to behave a certain way or I wasn't going to make it in His exclusive club. And don't even get me started on Him being the only way to this club. You mean to tell me Ghandi was going to spend eternity in Hell because he didn't call himself a Christian?

Then through a series of events, I find myself at a church...here at St. Timothy's specifically. I hung out for a couple years....did a few studies....helped a few people, but if you would have cornered me, I would tell you that Jesus was a good moral teacher...and that's about it. Then I ended up in prison...not how you might be thinking, but serving on a prison ministry team. That's right....I was going into a prison to tell people about the grace, mercy, love, and forgiveness that is Jesus....of which I knew nothing about. And friends....let me tell you.....i came to find.....Jesus isn't a fable....and neither was the miracles He can work. He is as real as you and me. I saw men that were damaged beyond repair, literally change into new people right in front of my eyes. I saw the men I was working with operating off hardly any sleep and many already in poor health, wide awake and defying their physical limitations. I saw a man who killed another man's brother, serve him food, ask for forgiveness, and getting it...embracing each other in front of everyone. Then He took a self-centered, self-important, unloving man....and showed me how broken, lost, and alone I was. Even after all I had done against Him...all I had done to others...Jesus rode right into my Jerusalem...my kingdom.....to tell me that I was loved and that I was forgiven and that He had a better way for me...better than I could have ever thought of myself. I came to realize that Jesus wasn't who I thought He was at all. He was someone far beyond anything I could have imagined.
One of the things I always had trouble with as a non-believer and even as I became a follower was the definition and understanding of sin. How can anyone know all the actions, attitudes, or thoughts that goes against God. I mean, what exactly is an immoral act and who defines it? Although there is plenty of black and white rules, there is a whole lot of gray. And why exactly do we need to be saved from it? Then...it hit me....sin is self-obsession...sin is our self-absorption. What I see now is that Jesus didn't come to save us from this world. Something the Jew's of His time missed as well. He came to save us from ourselves. Just like us today, they wanted saved from things in the natural....people that oppressed them...people that stole from them.....people that hurt them....people that may have offended our sense of morality. Instead of saving from all those things, He goes to the root of the problem to begin with....us.
Just like the Jew's of His time, He comes to show us a new path....a way of peace, forgiveness, and love....to turn us away for our path of guilt, revenge, and self-gratification. And we have to be careful....because I think sometimes we can get so caught up with who we think God should be.....that we totally look past who He is. We get this checklist of how we think He should respond to an issue we are praying about, or what type of people He should approve and love....and we totally miss what He's really doing. It's as if we sit and struggle to break free of these chains that hold us down. We look for a rock to bang them against, we try to find tools that will cut through the chains, and we get so involved with how can we break these chains, that we completely miss that someone is standing there....patiently, with His palm open....holding the key.
He still rides into kingdoms to this very day, the same as He did over 2000 years ago. He still rides on the back of peace, showing us a new way....the very best way. And we can choose to follow him and His path...a way of life, a way of resurrection. Or we can go our own path, a path that points only to ourselves....a path that will always end in death. So I ask you again, who do you think He is? I'm not talking about some high-minded theological ideal that describes who Jesus is. I'm talking about the Jesus you know.....the one you have experienced. Not just here in your head....but in your heart....your soul....your life.
Maybe you have been a follower of Christ all of your life, and that's why lent is such a blessed time. It makes room for us to strip off everything and get to the heart of our faith....and remember it...re-energize it...re-prioritize it. Or maybe you used be a believer and for one reason or another...your faith has been weakened...maybe even gone cold altogether. Perhaps you never believed. I invite...I beg you.....take the time to answer this question.....or better to experience the answer to this question. I encourage you to meet with me or one of the pastors here, as we would love nothing more than to walk along side you as you explore who this Jesus is to you. And that goes for believers as well. Your answer requires continual thought, prayer, conversation, and ultimately faith. The faith whether to believe that our self-made paths are the right ones.....or to have the faith to believe that the path Jesus shows us is the best way.
I can't begin to answer that question for you. I can't even make you answer the question, although I want to desperately. One thing I can tell you in all certainty, at least from my experience, Jesus is like nothing you have ever imagined.....but He is everything you have ever needed, wanted, or hoped for.....
Because I say to you...today....your King comes, righteous & victorious, lowly, and riding on a donkey. He will quiet the battles that rage inside of you. He will bring you peace...and it will cover you in this life and in the life to come. The Lord has done it this very day; let us rejoice and be glad.

Amen